Home

Thank you for visiting our website. In addition to providing you with a profile of our firm and the services we provide, we have designed our website to be a helpful resource tool to you, our valued clients and visitors. As you browse, you will see that not only have we highlighted background information on our firm and the services we provide, but have also included useful resources such as informative articles (in our Newsletter section) and interactive financial calculators (in our Financial Tools section). Please feel free to contact us with any questions or comments you may have - we'd love to hear from you.

Praetorian Advisors' mission is to assist our clients in attaining their financial goals by providing them with high value and quality tax advisory services. We strive to be a trusted resource for all of your tax compliance needs. We specialize in providing valuable tax advisory and planning solutions for successful families and closely held entities in the areas of high value tax planning and compliance, family office services, estate planning and administration, and risk management.

Associated with Trust, Power, and Protection, the elite Praetorian Guard served as bodyguard to the ancient Roman Emperors for over 300 years, beginning with Augustus, the first Roman Emperor, in 27 B.C. We think Praetorian Advisors is an appropriate name for a firm dedicated to helping its clients protect and enhance their wealth plan.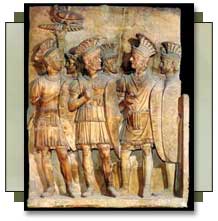 Praetorian Advisors is a CPA firm licensed by the California State Board of Accountancy.